Artist in Residence 2012-2013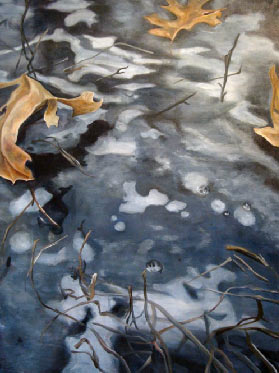 Artist Statement
I make art as a response to a personal need to communicate with myself and others. When I make art, there is first my mark-making and a relationship I have to the surface I am working on. Later, this translates into something different, a relationship between the viewer and the finished piece.
I like to start with subjects that are personal to me and allow them to develop and grow into themes that are relative to a more universal audience. Often while working on a piece, personal thoughts and feelings I have towards a subject will subconsciously influence the marks I make. Because of this it is always interesting to see how much translates to the viewer. Viewers often put into words ideas relevant to my original themes, and in this way for me art is a starting point for communicating about things which are difficult to bring into words.
While the meaning of my work can grow over time, I try not to limit myself in materials either. I work with a variety of media including wood sculpture, acrylic & oil paints, pencil, charcoal, inks, and more. I also play in the exploration of different non-traditional surfaces, fabrics, and recycled materials. Because I start with personal ideas that develop into something more universal, my work often teeters between representation and abstraction; addressing themes of the natural world, personal development, and transformation. I bring elements of myself into a piece, ultimately to establish a connection between artist and viewer so that the work reflects the viewers' experience as well as my own.
Find Gayle on Facebook