Artist in Residence 2012-2013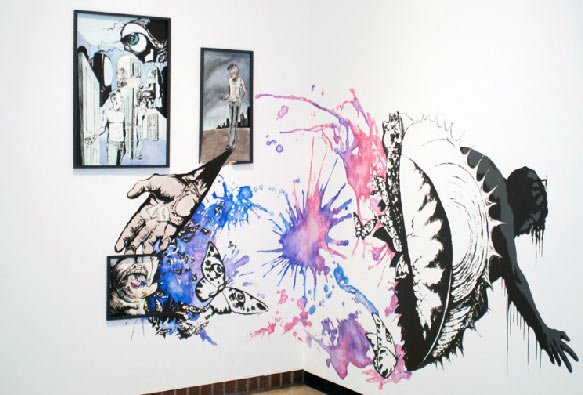 Artist Statement
Point of Relativity
My artistic practice revolves around the western obsession of binary opposites. In truth, there is no real definition of an opposing force. For example, hot and cold are binary opposites; ice is cold and boiling water is hot. But temperature is nothing more than the measurement of the velocity of particles; that is to say, what is "hot" is completely relevant to our own body temperature. If the point of relativity was existential and common like a star in the galaxy, then humans would be defined as cold creatures.
Even art is defined as binary to craft by being practiced and employed through rigid guidelines that have given it both structure and prejudice. Yet, contemporary art exists only because artists were daring enough to break the set guidelines and redefine the practice. To me, art and craft is the most frustrating binary pair because it is the greatest proof of the notion's fallacy. The point of relativity used to define a product is based upon a review of the ending results: what materials were used, where it is displayed, how it is presented, etc. I do not display in galleries, I display in public areas. I do not paint on a canvas, I paint on a wall. In the 80s, my practice would have been considered a vandalistic craft, but because the practice of graffiti became more widely accepted in the 90s, my work is now defined as art.
I am an interventionist artist: I intervene with the popular opinion and the surrounding environment. My lifelong goal is to deconstruct the practice of defining oppositional forces in order to redefine one's point of relativity. Currently, the point of relativity is intrastential, based solely on what we can immediately see. I want to redefine it as existential, based on the diversity of relationships or the ultimate relationship that can be constructed between a pair. It is not whether a product is art or craft, but the relationship of the creation that exists between the creator and product.
To achieve my goal, I pay very close attention to both my conceptual and creative practice. If my concept falters from my morality, it is obvious; but when my practice falters, it is more subtle. Because my goal is change a practice of an entire society, I must constantly try to communicate to as many people as possible. This is why I am a street artist. Although the practice is still taboo, it is the best way to communicate to the masses, proven to me by the effectiveness of outdoor advertising. I try to keep my work ephemeral, primarily using chalks and wheatpaste stick-ups that will eventually deteriorate and break. My stenciling and paint work I limit to areas that I know will be repainted or are no longer of public interest. I do this for two reasons: Space is everyone's and harbors no ownership; I do not want my work to be a permanent installation for fear of breaking this belief. Also, messages are ephemeral; time inevitably brings change, but with that change brings potential for something greater. My work must degrade to allow for this.
My conceptual work pushes the relationships that can exist between two components. Currently, I am focused on the secretive and/or taboo properties that are hidden within us all. Growing up in a world of secrets, the biggest surprise of my adult life was finding that my past events and problems are not uncommon; the few I have opened up to have stated that keeping it hidden is ideal. Yet I can't shake the feeling that my world needs to be communicated before any progress can be made. In Metamorphosis of an Anarchist a boy searches for placement and meaning within his life. The story is simple; the hero feels isolated from the family unit because of his parents' drug problems. Ironically, he turns to drugs himself to mask his feelings of rejection and low self-worth. Through an altered state induced by LSD, the boy gains acceptance of his problems and a willingness to move on in life. This story is greatly inspired my dear friend Bri, who opened my perspective to the possibilities of drug use. As a child, I saw drug abuse within my family, but it was defended under the claim that pharmaceutical or legal drugs such as alcohol cannot be abused by regular use. On the other end, I was taught that illegal drugs are highly dangerous and that even just one experience branded you for life. This perspective is both common and dangerous. The notion leads to a misunderstanding of one's body, ignoring pains and palpitations that are begging your consciousness to stop. Seeing drugs being used in this manner and then meeting my friend Bri inspired me to create this story and metamorphasize it into my complicated art form. My illustration isn't a guideline or an instructional, but a testament of how drugs can interact with humanity, revealing both the positives and negatives of use and experimentation.
This series marks my transition from an academic to a professional artist. Although experimentation and play will always be a part of my practice, I now have a conviction that drives my work forward. More than ever, I feel ready to take on the world and express myself within it.
Find Elizabeth on Facebook