Christ Church Cathedral is home to the Eau Claire offices of the Literacy Volunteers, a charity service organization dedicated to improving quality of life for some of our community's most marginalized people.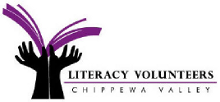 Who We Are
Literacy Volunteers – Chippewa Valley is a community-based literacy program that trains and supports volunteers to educate adults and their families, helping them acquire the skills necessary to achieve economic self-sufficiency and function effectively in their roles as citizens, workers, and family members.

Our mission to help one individual, one family, and one community at a time is realized through our core programs: One-to-One Tutoring; Family Literacy; Workplace Education; Corrections, and Citizenship. All programs employ one-on-one tutoring provided by trained and supported volunteer tutors.

About Our History
Literacy Volunteers – Chippewa Valley (LVCV) was founded in 1986 by a group of citizens who recognized a critical need for literacy programming within Eau Claire County. Early in our 23-year history, we recognized the same critical need in Chippewa and Dunn Counties and expanded operations to serve the entire Chippewa Valley. Since that time, LVCV staff and hundreds of volunteers have worked with thousands of adults to earn a GED or HSED, learn English as a second language, read and write with understanding, obtain employment or get a better job, master new work skills, conquer basic math, and gain economic self-sufficiency.

Our Partners
Community support is at the heart of everything we do. Each of our volunteers is committed to improving people's lives right in their own community. We are well connected to the other service and education providers in each community and meet regularly with Western Dairyland Economic Opportunity Council; Hmong Mutual Assistance Association; the Department of Human Services; Workforce Resource; Clear Vision Eau Claire Workforce Alliance; Chippewa County Job Center Partners; Chippewa Valley Technical College; Career Development Center; Senior Citizens Employment and Training and others.

What We Do
More than 10% of the 200,000 residents of the Chippewa Valley function at the lowest level of literacy, Level 1. An adult with Level 1 literacy skills often cannot perform daily tasks that many of us take for granted: reading the label on a prescription bottle, filling out a job application, totaling an en-try on a bank deposit slip, or reading a simple story to a child. This inability to function in modern society is a significant cause of poverty for many Chippewa Valley families struggling to support themselves. We work with the most under-resourced adults, whose low literacy directly affects their ability to find and retain employment, advance if they are employed, communicate with health care providers, access and successfully participate in available service programs, and fully participate in their children's education.

We start with individuals where they are. As individuals' skills increase, they are better able to provide for their families. As they are better able to provide for their families, their families participate more productively in society. The impact of increasing individuals' literacy skills ripples through the entire community. The local economic impact is also clear; for every $1 invested in a literacy organization, $33 is saved in support services and $11 is generated within the community by increased productivity.