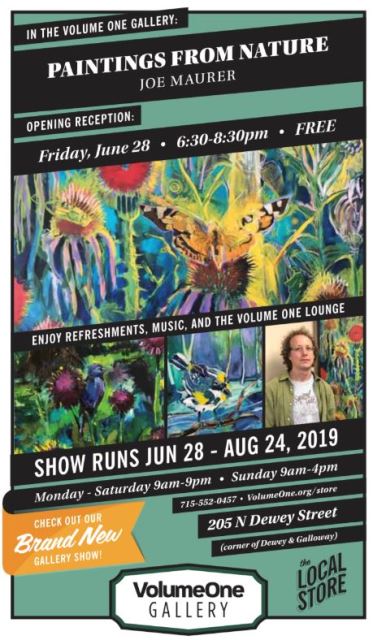 Please stop by the Volume One store and support Joe's show.
"I understand landscape as embodied history. Stories abound from the places carved by channels of water, and plants and trees arising from soil, where creatures dwell. Inspiration comes from memories, dreams or reflections of contact with nature."
Joe has a BFA in Art from the Minneapolis College of Art and Design (1999) and a Masters in Landscape Architecture from the University of Pennsylvania (2004). Joseph draws from a deep commitment to ecology and love of place. His work as a team member with Hargreaves Associates Landscape Architects included design on the London Olympic Park and landscape design projects in NYC; then as a Graduate School teacher for 4 years in the Department of Landscape Architecture at University of Pennsylvania he refined skills that he brought home to his Mid-Western roots. In 2006 he collaborated with New York based Public Artist Mary Miss on a large scale public art and landscape project at Arlington Sewage Treatment Plant in Arlington Virginia.  In his home of Eau Claire, Wisconsin, where he works as project design coordinator for Next Step Energy, a renewable energy company, Joseph spends regular time as a member of a community garden and prairie enthusiast. It is here that his work has recently taken bloom. In 2013, he designed a pavilion that stands in the Eau Claire's Forest St. Community Garden. In Fall Creek, Joe designed a new Butterfly Pavilion for Beaver Creek Reserve which will open in spring of 2019. He has also directed, produced and shot a documentary on native remnant prairies for The Prairie Enthusiasts. Joe was awarded Artist in Residence at Christ Church Cathedral in Eau Claire for 2018-2019.