Kelsey Wenberg

Artist in Residence 2018-2019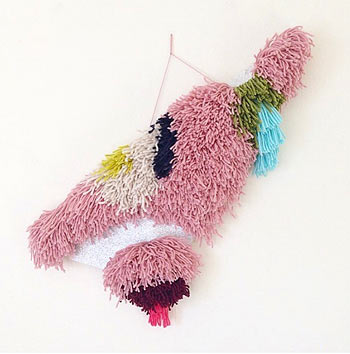 Confetti Mountain
2018
acrylic yarn, wood, paper
My current works are colorful explosions of emotion centered on obsession
and excess. They are seemingly playful upon first glance, but with dark undertones
of destruction and reconstruction. They represent conflicting sentiments of
depression and joy. Made from common materials and traditional practices, my
fiber-based pieces speak boldly about mental health in a contemporary way.
After I earned my BFA from UW-Madison in 2012, I became very ill. I stayed
in bed for nearly two years and made nothing. As a means of therapy, I began to
teach myself how to knit. Gradually, I grew stronger and I found solace in the
repetitive and meditative nature of knitting – a craft I could do from the comfort of
my bed. As I became healthier, so did my artistic explorations; I began taking my
knowledge of traditional knitting and reforming it to create artworks that spoke of
issues larger than themselves. I also incorporated other traditional fiber arts such
as crochet, rug hooking, macramé, and latch hook.
Now I make fiber-based sculptures that entail hours of repetitive knitting for
their bases. Then, I hand-knot thousands of individual strands of wool and acrylic
yarns to that base. I liken my process to that of Yayoi Kusama, who creates
tediously composed, colorful artworks driven by obsessive-compulsiveness and
other mental illnesses. Similarly, I feel compelled to make labor-intensive works to
keep my head and hands busy, an almost spiritual act through which I find stillness
in the midst of overwhelming emotions.
It is important to me that my sculptures never aesthetically appear to be
more than what they are made out of; I make my materials and constructions
blatantly obvious. I choose this level of finish because they are not meant to be
sublime objects. No matter what kind of statement it's making, or how beautiful it
is, it's still just wood and plastic and yarn. It's unapologetic about what it is; it's not
a masterpiece, it's a product of obsession.
Each sculpture represents different feelings: loneliness, regret,
insurmountable depression, but also healing, joy, and excess. I choose colors that
are at once pretty and grotesque. Some strands fall and drip like escaping paint
strokes. Their textures seem inviting and tactile. The shapes they form are
amorphic; unrecognizable as anything we know, but somehow familiar. In the end,
they are leftover relics from a contemporary twenty-something's journey to find
meaning in her making.
-Kelsey Wenberg