Each year on February 2, the church celebrates the Feast of the Presentation of Jesus at the Temple, also known historically as the Feast of the Purification of the Blessed Virgin Mary, and also called Candlemas. This feast commemorates the 40th day after Jesus' birth, when he was presented in the Jerusalem Temple with a thank offering for being a firstborn child, and Mary was purified in accordance with Jewish Law.
The Book of Leviticus mandates that, after childbirth, a woman must go to the temple to offer "two turtle-doves or two pigeons, one for a burnt-offering and the other for a sin-offering; and the priest shall make atonement on her behalf, and she shall be clean" (Leviticus 12:8).
The Presentation of Jesus at the Temple is chronicled in the Gospel of Luke, when St. Simeon the Righteous saw Jesus in the temple and "took him in his arms and praised God," saying, "My eyes have seen your salvation" (Luke 2:30).  It is noteworthy that in St. Luke's Gospel, the noteworthy childhood events in the life of Jesus center on the Temple in Jerusalem.  Here, Jesus enters the Temple for the first time with the custom of a thank-offering for a healthy child, but he is the Messiah who has been expected for generations--the Master of the Temple--and his arrival is hailed by prophets and sages.
This blessing by Simeon on the Christ-child has become one of the daily prayers of the Church. The Nunc dimittis, or "The Song of Simeon", has been the funeral prayer as well as a daily bed-time prayer of faithful Christians since the very beginning of the Church.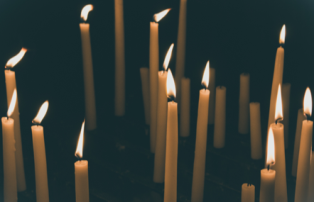 Lord, you now have set your servant free
to go in peace as you have promised;
For these eyes of mine have seen the Savior,
whom you have prepared for all the world to see:
A Light to enlighten the nations,
and the glory of your people Israel.

(Luke 2:29-32; Book of Common Prayer, p. 120)
This celebration of this day grew in significance as the celebrations around Christmas grew in significance in the early centuries of European Christianity.  This was the celebration that closed out the Season of Christmas, and began the season of Carnival, a pre-Lenten season of purification (not yet the season of parties it would later become).  As the close of the Christmas season, this was a solemn festival where all the congregation's candles were blessed for the coming year, as a reminder that they were to be "A Light to enlighten the nations, and the glory of your people Israel."